In an increasingly fast-paced world, instantaneous hot water systems are becoming more popular among consumers. Also known as continuous flow hot water systems, these systems offer hot water on demand rather than storing hot water like a traditional system. But what are some of the best options on the market? We are going to compare the Rinnai Infinity Touch 26, the Rheem Metro Max 26 and the Rinnai Builder Series to help you decide the best option for your home.
Is it Time to Upgrade to a Continuous Flow Hot Water Heater?
There are a lot of advantages to instantaneous hot water systems and faster hot water is an idea that's easy to get excited about. However, no model of a hot water system is perfect for everyone.
Continuous flow hot water systems thrive in smaller areas or homes with one to six people.  There isn't a range of sizes in continuous flow water heaters as there is in other types of heaters. Before installing any heater, you need to consider the needs of your household. If you have a larger family, where multiple people shower simultaneously, it may be too much to expect of a smaller hot water heater.
Benefits of continuous flow hot water heaters
Faster hot water.
Without the need for a storage tank, they take up less room.
Ideal for homes or small businesses with limited space.
More aesthetically pleasing.
Cheaper running costs.
26-litre storage tank capacity
Ideal for homes with 1–3 bathrooms.
Great for medium to large families.
Rinnai Infinity Touch 26L Continuous Flow Hot Water Heater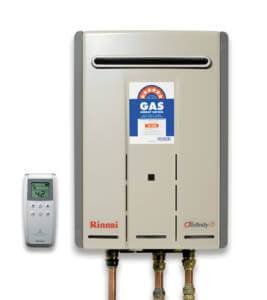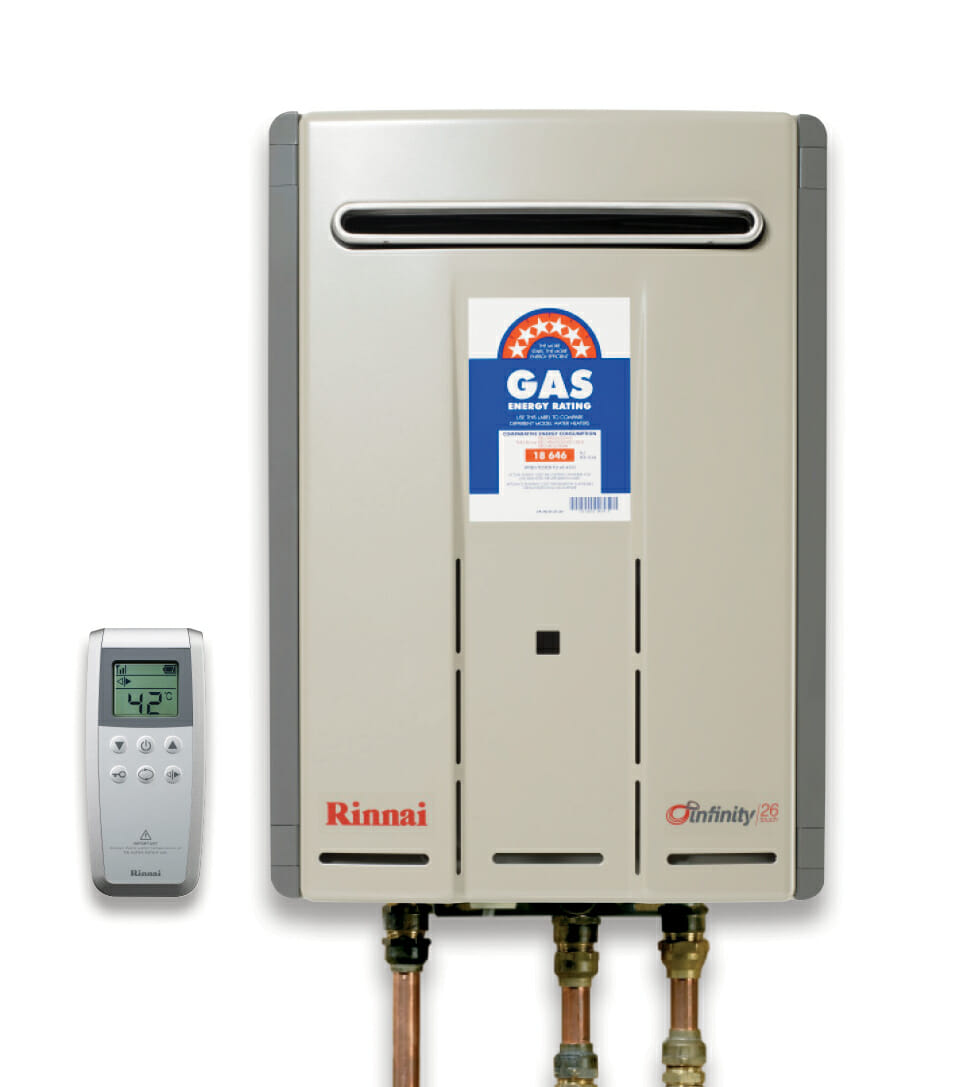 The Rinnai Infinity Touch 26L is one of the most popular continuous-flow hot water heaters in Australia. With low greenhouse emissions and running costs, this model is one of the most efficient on the market. Ideal for bringing hot water to a home with 1–3 bathrooms. Rinnai is renowned for being on the cutting edge of technology, and they have put all of this innovation into the Rinnai Infinity 26L models.
This model is available in natural gas and LPG, with a temperature preset of 50 °C or 60 °C.
Price
Supply only: $1600
Installation and supply: Between $1810 and $2060, depending on location.
Location
This unit can be installed outdoors and comes with one remote control. Its small, compact size allows great installation flexibility.
Warranty
Heat exchanger: 12 years
Labour: 3 years
Parts and labour: 3 years
Pros
6.1 energy star rating.
Low greenhouse emissions.
A precise, easy-to-use controller that provides precise temperature control for extra safety and convenience.
Has a long lifespan, with some units lasting well over a decade.
Reliable performance and easy to maintain.
Compatible with low-flow showers.
Easy-to-use display window.
Cons
More expensive upfront costs, especially compared to traditional hot water systems.
May struggle with especially high water demands.
It is important to remember that the water still needs time to heat, which may be noticed if you use a lot of water.
Rheem Metro Max 26L Continuous Flow Hot Water Heater
The Metro Max 26L is Rheem's solution to providing an instantaneous flow gas hot water system to your home at an affordable price. This system is ideal for up to 2.5 bathrooms in warmer climates and 2 bathrooms in cooler areas. It comes with a standard or deluxe remote thermostat, allowing you to control the water temperature inside your home. This compact system proves that great things come in small packages.
Price
Supply: $885
Install and supply: $1305–$1355
Location
Outdoor
Warranty
Heat exchanger: 10 years
Labour: 3 years
Parts and labour: 3 years
Pros
6-star energy rating uses only a third of a traditional gas heater system.
A more affordable model of heater.
The compact size makes for versatile installation options.
Built-in protection for overheating.
Cons
Less efficient than other options.
More expensive upfront than other types of water heaters.
Will require a gas connection, which won't suit all homeowners.
Rinnai Builder Series 26 Litre Continuous Flow Hot Water Heater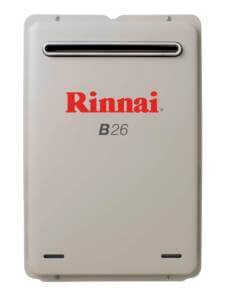 A more affordable gas continuous flow option from Rinnai, the Rinnai builder series, boasts many of the same qualities. It has a 6.1 Energy Star rating and will reduce your running costs. The main difference between the Rinnai Infinity 26 and the Builder series is that the latter lacks the display window and has a shorter warranty on the heat exchanger. It is available in natural gas with a preset temperature of 50 °C or 60 °C.
Price
Supply only: $970
Install and supply average price: $1355–$1455, depending on location
Location
It is designed to be installed outside, but its small size makes it more versatile than models with large storage tanks.
Warranty
Heat exchanger: 10 years
Parts and labour: 3 years
Pros
6.1 energy star rating.
Less expensive to run.
Cheaper upfront costs than the Infinity 26.
An environmentally friendly way to heat your water.
Cons
Lacks a display window of the Rianni Infinity.
Shorter warranty than the Rianni Infinity.
Which continuous-flow hot water heater is best?
Rheem and Rianni are highly regarded manufacturers producing reliable, durable products. Therefore, the choice must be determined by your house, lifestyle needs and predicted hot water usage.
The Rinnai Infinity Touch is the top of the range for continuous flow hot water, and you would struggle to find a better system on the market. With the latest technology, you'll get years of reliable laundry, bathroom and kitchen service. The main downside is this system has a higher initial cost than the other two models.
The Rinnai Builder Series 26L is ideal for those who still want the Rinnai quality but at a cheaper price. It won't have all the bells and whistles of the Touch, but it is still a quality machine.
Rheem is another affordable, quality hot water heater product. Rheem is one of the most popular brands in Australia. Again, while lacking all the features of the Infinity Touch, this is a quality, value-for-money choice for a medium-sized home.
Same Day Hot Water Service is the name you must remember for all your hot water needs. Our store offers a complete range of continuous-flow hot water systems and other options, including solar, electric and heat pumps. Our experienced team offer a range of services from installation and repair or servicing to ensuring that your home has heated water. To purchase a new unit, hire an installer or get more advice on hot water systems, phone or contact us today!