Hot Water Systems Melbourne
Same Day Hot Water Service is one of Australia's largest online retailers of hot water systems.
Our range of hot water systems includes gas, electrical and solar hot water storage, continuous flow hot water systems and heat pumps.
Our hot water experts carefully select our products to include only the best quality brands, including Rinnai, Bosch, Dux, Rheem, Vulcan, Aquamax, etc.
If you're unsure which hot water system is best suited to your home, give us a call to talk to one of our dedicated customer service representatives. We aim to help you decide which product best satisfies your requirements and budget, ensuring that you get a great price for the exact hot water system that you need.
Melbourne-wide Hot Water Services
Loved by happy clients across Sydney for the past 30 years, Same Day Hot Water Service is now servicing Melbourne, bringing reliable hot water services, lower energy costs, and new hot water installations to residents all across the city. We take pride in serving our customers with top quality, value, expert selection, great service, and a product line featuring the best. Not only do we make the top brands publicly available with same-day shipping, but our hot water services extend to include installation and expert hot water repairs to provide reliable, consistent, and efficient hot water.
Whether your water heater has stopped working, if you consistently run out of hot water and aren't sure why, if you want to switch from an electric system to a gas continuous flow hot water system or need the installation of a brand new hot water system, we are here to help, every person within our team are hot water experts, from our maintenance and repairs specialists to our sales team and installation crew. With expertise and decades of combined experience, we can set up or repair your hot water, from selecting the right water systems to maintaining the equipment. We pride ourselves on providing fast, hassle-free, high-quality, and superior service.
We Get Your Hot Water Running
Any Melbourne resident knows how essential hot water is in the cooler months, and there is nothing worse than waking up for a hot shower or coming home from a long day and having the water run cold. Our hot water specialists are available to ensure your water never runs cold.
We can now service Alphington, Bundoora, Coburg, Coburg North, Fairfield, Kingsbury, Macleod, Northcote, Preston, Reservoir, and Thornbury. Whether your current system is failing or you need a new installation, please don't delay. Please call our friendly team to get your hot water running today.
Let Us Install Your Hot Water System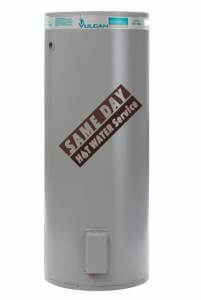 Hot water is an essential comfort of modern life. If your hot water system fails and your hot water runs out, it can be disastrous. We ensure you have the best hot water system, from the pump to the fuel source, for your property and situation to experience consistent and efficient heating water. Once you've selected from our range of hot water systems, Same Day can have it installed within 24 hours, making us one of the most convenient suppliers of hot water systems Australia-wide. Our hot water experts are the best in the business, ready to deliver your hot water system and answer any questions about its use and maintenance. More than just installers, our team can diagnose an array of potential issues in your hot water units and fix them on-site so you can get back to normal life as soon as possible.
CALL NOW for same-day hot water service, repair or installation Melbourne Wide
For over 30 years, we have been Australia's largest online hot water retailer and the number one source for hot water systems, hosting the best brands. We are dedicated to bringing you the best available units, top-quality maintenance and hot water repairs, expert installation and competitive costs. Whether you need gas fitters, installation of any hot water system from a hot water heater to continuous flow hot water systems or a storage hot water system, we will have you covered.
We're in the business of providing excellent around-the-clock service. If you're looking to buy a brand new hot water system or need a repair on your current system, our certified professionals are available to help 24/7. We can discuss potential government rebates, the best products for your situation, and more.
Contact us now on 1300 721 996 for a free quote or to discuss your water needs. We provide quality, honesty and same-day hot water services when you need them most.
We are in Melbourne
Address: 3/1A Brand Dr, Thomastown VIC 3074
Your Hot Water System Questions Answered