Hot Water Systems Brisbane

Same Day Hot Water Service has spent four years providing expert services to clients across Brisbane and South East Queensland. Since our inception over 30 years ago, our growing family-owned company has brought replacement, new installations, top-quality repairs, professional advice, efficient service, and the lowest price possible to happy customers Australia-wide. Our highly recommended hot water systems are available to Brisbane locals, who have enjoyed the same-day difference for the past four years.
Our online store has a large range, so we have exactly what you need to get your water running hot. By using the same people for the whole process, you will save money with the best price and time thanks to our efficient manner. Our sales team can quickly identify what may be going wrong with your old unit and provide expert advice to deliver the new unit to you as soon as possible. We offer a full range of hot water services in Brisbane, including sales, installation, service and repair. Our quality services are backed by our expertise in hot water products, making us one of Brisbane's most sought-after providers of hot water systems.
Hot water systems supplier in Brisbane you can count on
A quality hot water system is one of the most important appliances in your home. Ensuring you get the right one is vital to your comfort, energy consumption, and electricity or gas bill. Whether your property needs electric, natural gas or solar hot water systems, we can provide prompt repairs or replacement so you don't have to experience cold showers. We also install continuous-flow hot water systems and heat pump hot water systems.
To help you to select the perfect new hot water system, we only stock high-quality, reputable brands that have proven themselves on the market, including Rinnai, Bosch, Dux, Rheem, Aquamax and Vulcan. If you are unsure which system best suits your property, please get in touch with one of our dedicated customer service representatives in Brisbane. Using our expertise in the field, we can help advise you on which type of water heater will best suit your requirements and ensure that you quickly get the system you need.
Brisbane Wide Same-day new installations 
If you've already chosen, we offer same-day installation across Brisbane, meaning you can install it in your home within the day. Our service professionals are highly trained at delivering and installing your new hot water system with minimal disruption to your day.
Hot water is an essential comfort of modern life. If your hot water system fails and your hot water runs out, it can be disastrous. We ensure you have the best hot water system, from the heat pump to the fuel source, for your property and situation to experience reliable, consistent and efficient heating water. Once you've decided on a hot water system, we can have it installed within 24 hours, making us one of the most convenient suppliers of hot water systems Australia-wide. Our experts are the best in the business, ready to deliver your system and answer any questions about its use and maintenance.
No matter your needs, our services are available 24/7 with fast, same-day installation, repair and maintenance available across the city.
Get your hot water system repaired or replaced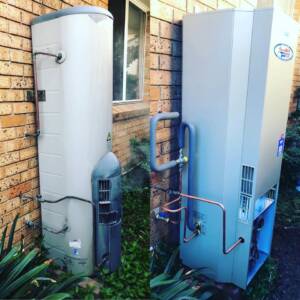 Hot water is easy to take for granted until you take an ice-cold shower in winter. Our Brisbane hot water repair and maintenance services ensure that your malfunctioning hot water system is repaired or replaced within the day to get you back on your feet quickly. There is nothing more frustrating than getting up in the morning and finding out that your hot water doesn't work, which is why our hot water plumbers provide prompt service and reliable hot water system repair to get you back in the shower in no time. If your hot water system needs to be replaced, we can deliver and install a high-quality unit within the day. We can diagnose whether the issue is coming from your water heaters, tempering valves, gas hot water supply, or elsewhere and get your hot water running so you can get back to life. We can replace your hot water system, fix your existing one, or remove your old one to ensure your water is running efficiently and that your new system is ready to go.
Your hot water system questions answered
Contact us today for same-day hot water installation or sales
Whether you are looking for an electric water heating system, replacement of your old hot water system, need a repair on your solar water heaters or want to discuss instantaneous hot water systems, our certified professionals are available to help 24/7. We can discuss potential government rebates, the best products for your situation, and more. We provide quality, honesty, a very professional service, and same-day hot water services when you need them most to sites all over Brisbane.
Call us today for friendly service, expert help and perfectly tempered water.