Hot Water Systems Campbelltown
Hot water is at the very core of comfort and convenience in the home, used for showers, laundry and even ambient home heating, it has become difficult to live without access to clean, reliable hot water. Which is why if you are moving into a new place or your hot water system has stopped working for any reason, being able to call a reliable hot water system service provider is vital to getting your hot water up and running as quickly as possible.
Same Day Hot Water Services in Campbelltown offers the full gamut of hot water services including hot water system sales, installation, repair and maintenance. That means that whether you are looking for a new hot water heater or for an emergency repair for your older model, we offer fast, convenient assistance when you need it most.
Same Day Hot Water Service has made same-day delivery, installation and repair one of the core offerings of our business, which means that you won't find a more convenient place for your hot water service needs anywhere else in Campbelltown.
Campbelltown Hot Water Systems Supplier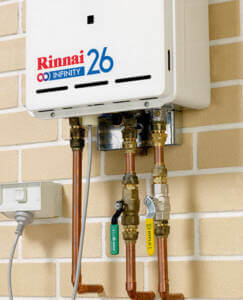 A quality, reliable hot water system will not only provide consistent comfort for your home but will also help reduce your household energy consumption and your impact on the environment. This makes choosing the right hot water system important.
At Same Day Hot Water Service, we are dedicated to not only helping you make the right choice but making the whole process as easy and convenient as possible. In Campbelltown we offer a range of quality, reliable and efficient hot water brands including Rinnai, Bosch, Dux, Rheem, AquaMax and Vulcan. Our customer service experts are available to assist with any questions you might have on your selection, while our technicians are ready to deliver and install your hot water system the same day that you purchase it. 
At Same Day Hot Water Service, we aim to provide you with the flexibility to choose how you want your hot water system installed, whether you'd prefer to install the system yourself or have one of our expert technicians do it for you. Our hot water systems installation in Campbelltown is fast, convenient and can be done on the same day as your purchase. 
Very little is as uncomfortable as a cold shower, which is why we offer same day hot water system repair in Campbelltown. Our expertise in a wide range of hot water systems means that we can work with almost any system and get you back in your shower in no time.  
Emergency Plumbing Service
Our expertise in heating systems is rooted in a deep understanding of plumbing and water systems in your home, which means that we not only offer hot water services in Campbelltown but emergency plumbing services as well. Whether your bath is clogged up or water isn't running we can help. 
Call Same Day Hot Water Service today
Call us today for fast and reliable hot water system sales, installation, maintenance or repair with Same Day Hot Water Service.