Prices listed next to each heater* are for supply and install in the Sydney, Central Coast, Newcastle, and Melbourne areas only. Supply & Install prices are for like for like installations. Tempering valve if required is an additional $185.00
Phone us now on 1300 721 996 to get your new Rinnai hot water system.
Delivery Information
All of our Rinnai Hot Water Systems have Nationwide delivery and in the majority of cases shipping is free!
ATTN QLD & WA & Geelong customers: Please contact our Referral Agents for installation information
Gold Coast
Call Alex from ABA Budget Plumbing on 0408488661 for installation information.
Brisbane
Call Mitchell Plumbing & Gas on 07 3733 3622 for installation information.
Sunshine Coast
Call Jayson on 0416114086 for installation information.
Geelong
Call Nathan from Plumb IT Geelong on 0400758629 for installation information.
Hobart
Call Paul from Affordable Group Tasmania on 0428 390 244 for installation information.
Adelaide
Call Prins Plumbing & Gas on 0416253242 for installation information.
Canberra
Call Phil from O'Brien Plumbing Tuggeranong on 0416310318 for installation information.
Rinnai Continuous/Instantaneous Flow Hot Water Systems
NOTE
For Supply & Install if you are changing from a storage heater to a continuous flow there are additional charges that apply.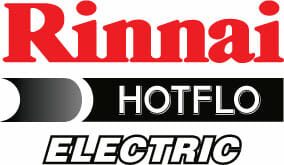 Rinnai Hotflo Electric Hot Water Systems
Rinnai Hotflo Gas Hot Water Systems
About Rinnai Hot Water Systems
Rinnai has been supplying comfort, convenience, and reliability to Australian homes for over 50 years, originally reigning from Japan. The brand has three world-class manufacturing facilities in Victoria and South Australia that have become centres of excellence, known across the world.
Rinnai has grown to become one of Australia's leading industry suppliers and innovators for hot water, heating, cooling, and commercial equipment while becoming a trusted household name. Rinnai products cover a broad range of needs such as hot water, heating, and cooling systems for single rooms, the entire house, and commercial buildings, along with renewable energy systems and other home comfort appliances.
Rinnai for Australian Homes...
Rinnai has an extensive range designed for Australian homes to meet the specific demands and needs of Australian people. This includes energy-efficient continuous flow hot water, water conservation and installation versatility. As a result, the Rinnai name has become synonymous with reliability and performance with the team consistently working on even further reductions of energy usage, running and installation costs.
Thanks to the addition of products such as the Rinnai Infinity, the ability to heat water to your exact preference is made easier and repairs are made much quicker as the system communicates its needs. Rinnai is constantly updating its hot water system and water heater range to adapt to the Australian climate, including the latest technology and innovation at the most competitive prices.
We are proud to stock Rinnai units in our hot water system range and are here to answer any questions you may have about the range.