Same Day Hot Water Service is one of Australia's favourite providers of all things hot water. We offer the full gamut of hot water services including hot water system sales, installation, repair and maintenance. We work with these systems every day, making us experts on everything from repairing simple issues to hauling out old systems and replacing them with brand new ones. Our reliable hot water repairs and hot water maintenance will improve and increase the life of your system to make it the best hot water system it can be.
Our hot water repairs include all elements of your system, from hot water tank issues to broken hot water heaters, misbehaving heat pumps or hot water emergency call outs. As your local hot water plumber, we will provide great service and emergency repairs whenever you need them (even on public holidays), to get your hot water running hot as soon as possible.
As licensed plumbers, your hot water specialists can work on all major brands and perform services from gas fitting to the complete installation of your electric hot water system. For all your plumbing needs, give us a call on 1300 721 996.
Why Choose Same-Day for your Repairs…
Understanding what might have gone wrong with your hot water system can be difficult, which is why having a plumbing expert who knows the ins and outs of hot water systems is so important.
Same Day Hot Water Service is one of the biggest suppliers of hot water systems in Australia, which also makes us experts on knowing what makes them tick. Our hot water system repair services are fast, effective and built on years of experience. Our customers know they can call on us the second their hot water system breaks and that we will be at their door within the day. 
Same day hot water system repair
It can be easy to worry when your hot water tap is only producing cold water. The issue could be stemming from a burst pipe or dodgy water heater, and without an electrical licence or plumbing experience, it can feel like an overwhelming task. The good news is that our hot water plumbers are here to do your hot water repair with our same day service.
Experienced plumbers
Each of our plumbers has a deep understanding of hot water systems and how they interlace with the rest of the plumbing in the home. This, combined with our reputation as a fast and reliable service provider, makes us one of Australia's preferred providers of hot water system repairs.
Experts on all hot water system repairs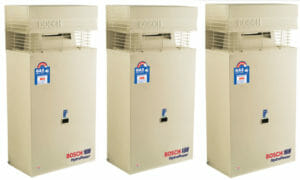 No matter what brand or type your hot water system might be, we have worked with it in the past. From solar hot water systems to electric hot water systems or a gas hot water system, we will have an expert in that system ready to help with yours.
If the issue is with your heat pump, tempering valve, water tank or hot water heater – we can diagnose the problem and fix it, all within our same day service. We offer repairs on a wide range of hot water systems including some of the most popular: heat pumps, electric storage, gas storage, solar, evacuated tube and instantaneous/on-demand &  continuous flow hot water systems. 
Comprehensive Replacements & Repairs
Our service includes comprehensive hot water installation. You will be surprised at the difference that a new hot water heater and more efficient tank can make, or how making the switch to solar or gas water heaters can lower your bills and improve your water.
Our experienced team can diagnose the best for your property and provide quick service so you can get back to your life. We offer a wide selection of high-quality systems, suited to a range of homes and lifestyles. All you have to do is pick one and we can have it at your door and installed within the day. Some of our key brands include Rinnai, Bosch, Dux, Rheem, AquaMax and Vulcan. 
Call Us for Emergency Hot Water System Repair
Call us today on 1300 721 996 to have us at your door within the day. Whatever the issue might be, whether it's a broken valve or an old hot water system that needs to be replaced, our experienced plumbers can help get your water up and running again in no time.
FAQ's
How much does it cost to repair a hot water system?
The cost to replace the hot water system will change based on the brand and type of your new system, as the installation process, design and layout, and features of the system may be different from others.
How long do hot water systems last?
You can expect your system to last around 10-15 years, depending on the type of system.
What is the most common problem with water heaters?
Water heaters leaking is potentially the most common problem and it can be caused by a number of factors.
How do I fix my hot water system?
There is little that you can do to repair your system without the help of a professional unless the problem is simple such as needing to be flicked back on from the circuit breaker.