Hot Water Systems Sunshine Coast
Finding a reliable hot water systems supplier can be challenging. Not only do they need to be experts in servicing, repairs and installation, but they also need to be able to respond quickly to calls for assistance. That's where Same Day Hot Water Service excels compared to the competition, providing fast, high-quality, reliable hot water system services when our clients need them most.
Same Day Hot Water Service offers a comprehensive range of hot water services on the Sunshine Coast, including hot water system sales, installation, service and repair. That makes us a one-stop-shop for all your hot water needs, whether it's buying a new heat pump or servicing your existing continuous-flow system. We also offer electric hot water systems, solar hot water systems and heaters and gas hot water systems.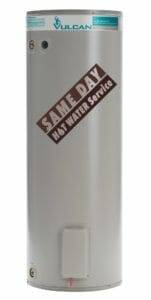 Aquamax Hot Water Systems
Hot Water System Supplied, Installed and Repaired on The Sunshine Coast
A good hot water system will not only offer reliable hot water for your kitchen and bathroom, but it will also help to keep your energy bills low. Choosing the right hot water system is important as an appliance you use daily impacts your life on many levels. Same Day Hot Water Service's mission is to help to make the right choice simple. To do this, we only offer proven brands with a quality reputation, such as Rinnai, Bosch, Dux, Rheem, AquaMax and Vulcan.
For someone buying a hot water system for the first time, it might not be obvious which is the right system for you, which is why our customer service representatives are just a call away, there to help you make the right choice for your home or property. Whatever you need, they can point you in the right direction and help you choose the best system for the lowest price.
Once you've chosen a hot water system that suits your lifestyle, Same Day Hot Water Service is available to install within a day. Whether you have your own or bought one from us, our technicians on the Gold Coast are experts at installing hot water systems in a professional and efficient manner, getting your water up and running in no time. 
Waking up in the morning to a cold shower is as unpleasant as it sounds, which is why Same Day Hot Water Service not only installs but also repairs hot water systems on the Sunshine Coast. Our hot water system maintenance and repair services are available at a moment's notice for any system that your home might have.
Call Same Day Hot Water Service
Call us today for hot water system sales, delivery, installation or repair, and have one of our friendly technicians at your door today, ready to assist with whatever you might need to get your hot water up and running again.
Same Day Hot Water Service has made short lead times one of the pillars of our offering, which means that we can respond to calls for hot water system delivery, installation, service and repair on the same day that our clients call, making us the top hot water provider on the Sunny Coast.