In a country with some of the highest consistent UV ratings and sunniest seasons year-round, it is no surprise that many Australians are choosing to make the switch to solar.
Solar power draws on the energy from the sun to make hot water run. This allows homes to function with clean, efficient, green power. Green power means that your home structure will be more self-sustainable and less pollutant overall.
When people think of solar power, they generally conjure up images of solar panels on roofs and assume it is mainly to run the home's electrical systems; however, solar hot water systems are becoming more and more popular in the fight against climate change and the rising costs of living.
So, when it comes time to switch to solar, you may be thinking, 'Is this worth it?'. The short answer is – yes! 
Although the upfront cost may be higher, a solar hot water system will save you thousands in the long run compared to traditional hot water heaters. This makes the price of long showers and big family get-togethers significantly lower. The potential for cost savings is usually enough to get people across the line, but if you need further convincing, read on for more reasons why switching to solar is worth it. 


Why a solar hot water system is worth installing in your home:
The use of hot water can impact the cost of your energy bill more than anything else in the home. Being responsible for around 25% of the typical energy use in Australian homes, you can reduce your energy consumption and subsequent costs exponentially by making the switch to solar hot water.
You may be concerned that solar hot water won't be as efficient or reliable as that pumped with electricity; however, solar water is incredibly efficient. Solar hot water collectors produce the maximum energy per square metre if you're concerned about making the most of your solar investment. 
Solar hot water takes up significantly less space than solar panels for powering the home. If you have a small house or limited roof space, you will likely find a solar hot water solution to suit the parameters of your area. 
Many solar hot water systems can store energy for later use, meaning you can enjoy reliable hot water day or night, hail, or shine. 
Where gas and electric hot water systems tend to stand out like a sore thumb, solar hot water systems, particularly passive systems, are out of sight on the roof so that you can make the most of the side of your house or the backyard. 
Energy efficiency and a reduced cost of living are genuine concerns for many future homeowners. However, an included bonus of solar hot water may be the boost your home needs to secure a worthy offer, even adding thousands to the sale price. 
As such a great asset to the environment, the government supports people who switch to solar with incentives like the Australian Government Renewable Energy Target Scheme. This means you may be eligible for perks such as discounts on the purchase price of your new system. 
When installed correctly, solar hot water systems can essentially run independently with very little input from the homeowner. The system's ability to absorb the sunshine, backed up by the booster, means that you will be able to set and forget, letting the system take control of your hot water needs. 
The impact of switching to solar hot water is the equivalent of taking a small car off the road every year. While you may not be able to maintain a one-car household, you can make your hot water usage as earth-friendly as it can be thanks to solar.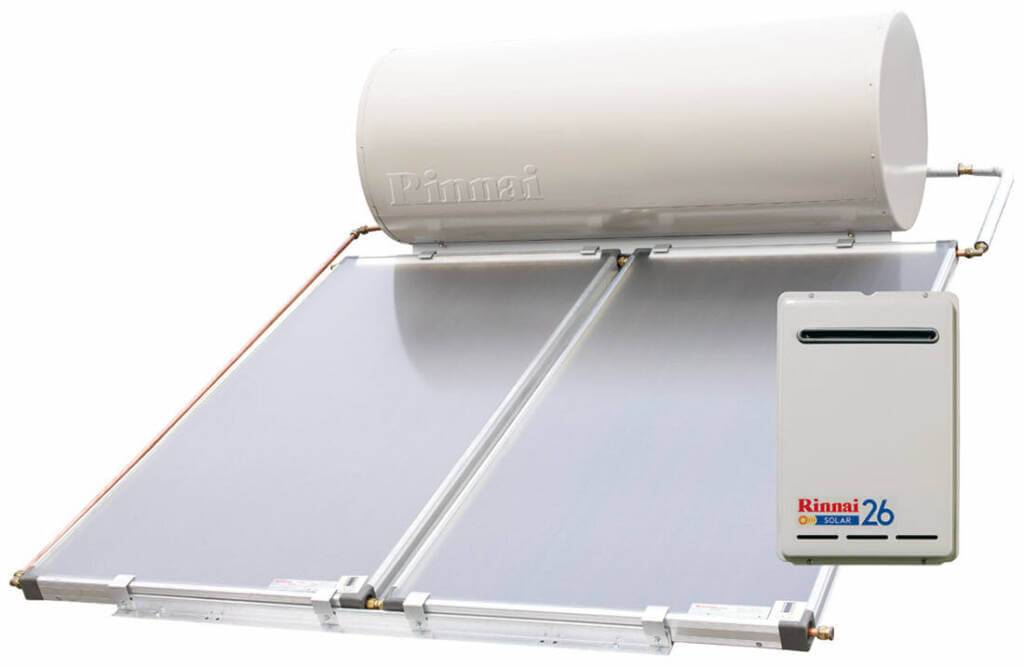 The Lowdown on Solar Hot Water Systems
Solar hot water systems include a storage tank and a solar collector to work together to provide reliable hot water.
An 'active' solar hot water system will circulate using pumps and controls, whereas a 'passive' system doesn't, relying on gravity to move liquid through the system.
There are choices for systems to suit your climate and hot water usage the best within both categories, either preventing freezing or supporting high hot water demand for large households. Thanks to the development of hot water systems, there will be a choice to suit your family and household the best, ensuring you are never without hot water. 
Pumped or active systems use solar panels or collectors to absorb the sunlight and have a storage cylinder on the ground like a typical hot water system. A pump will circulate the water from the cylinder to the collector to be heated and cycled back. Pump systems use a small amount of electricity and are great for smaller roofs or older homes.
Perhaps you are concerned that your home doesn't receive enough sunlight to keep the house in hot water. Solar hot water systems are available with a booster auxiliary heater responsible for providing backup even when there isn't enough sunshine.
Boosters can be supported by either electricity or gas and integrated into the storage cylinder or installed on an outside wall.
Ready to make the switch? We can help…
Incredibly efficient, solar hot water systems provide a great way to reduce your carbon footprint, slice your energy bills in half, and improve the value of your home while making your hot water reliable and perfectly tempered.
Solar hot water systems generally last well over a decade, with most Australians getting a good 20 years out of their system before experiencing any issues. 
Solar hot water systems are available from most major brands, including Rheem, Rinnai and Solahart, each offering different perks and covering select needs for specific households. For more information, shop our range of solar hot water heaters or get in touch with one of our hot water experts today.
With installations available in most major cities and fast shipping Australia wide, it has never been simpler to get solar hot water flowing in your home.