Whether you're looking to provide hot water for an investment property or want no more cold showers for your family, choosing the right design of a hot water heater makes all the difference. Hot water is an essential feature for any home, but is a gas hot water system the best choice for you? Let's take a closer look at the advantages of gas hot water systems and why they are used in 70% of Brisbane homes.
Types of Gas Hot Water Systems We Recommend for Your Brisbane Home or Investment Property
When it comes to gas hot water units, there is a wide range of brands and models available, including Stiebel Eltron, Rheem, Dux, Rinnai, Aquamax and more. Gas heaters include a water storage tank and require a gas supply, but different models will have their own extra features.
Advantages & Disadvantages of Using a Gas Hot Water System
Advantages
Cheaper to run: Gas hot water systems tend to cost less to run than other water heaters.
Great for homes that already have gas: If you're already using gas for your stove, then a gas water heater will be a natural fit.
Available in a range of sizes: Gas hot water systems are available in a range of sizes and capacities to suit different households and needs.
Disadvantages
Use more energy: Gas hot water systems use more energy than their electric counterparts.
Must be located outside: Gas heaters need to be installed outside unless you have a flute and adequate ventilation somewhere inside.
Only a viable option if you already have gas: If your home doesn't already have gas installed, then a gas heater is no longer an affordable option.
What To Consider
Size: You'll need to choose a model size that will meet the needs of everyone in your home.
Budget: Hot water heaters range in price, so you'll be able to find something that fits your budget.
Running costs: For any system, you need to consider both the initial cost of your unit plus the ongoing running and maintenance costs. This will give you a better idea of the true cost of any system.
Space: When installing a new heater, you'll need to find a space for the storage tank.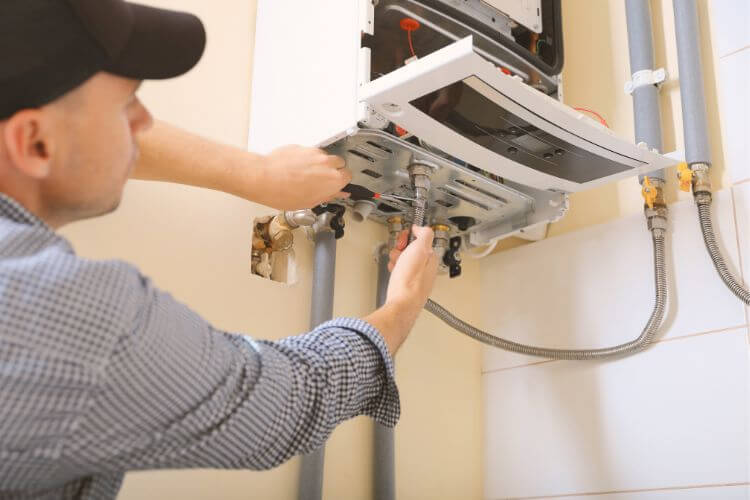 Maintenance
Regular services ensure your system is always running at its best and provide plumbing/hot water specialists with a chance to catch any problem early. Some of the key signs your gas hot water system needs a service include:
Inconsistent water temperature.
Leakage from hot water storage tank.
Water pressure lacks consistency.
Your system is making strange noises.
Pilot light issues.
Is there anything unusual about the water coming from your tap?
Regulations for Installing Gas Hot Water Systems in Brisbane
The key regulations you need to be aware of when installing gas hot water systems relate to the installation and temperature. In Queensland, gas hot water heaters need to be installed by professional plumbers. Stored water must be at a temperature of 60 °C to prevent bacteria, but must leave the tap at no more than 50 °C to prevent burns.
Is it Time to Replace or Repair Your Gas Hot Water System?
The average lifespan for a gas hot water system is around 10–15 years. The great news is there have been some big advancements in technology with hot water heaters in the last few years. You might not even realise how bad your old system was until you install a replacement unit. Some of the signs it might be time to replace your system include:
Your system is over 15 years old.
The water tank is leaking.
Water is no longer heated.
The valve doesn't work.
Rust and corrosion.
Reduced efficiency.
Poor water flow.
Alternative Hot Water Systems
The most common alternative to gas hot water systems is electric. These are available in a variety of types, including tankless options, like instantaneous or continuous, or heat pump options. There are also solar options for those looking to save money on electricity bills.
Common Questions | FAQ
Q: Are gas hot water heaters energy efficient?
A: While gas water heating will save you money on electricity, they tend to be less energy efficient than electric systems.
Q: Can I install my own gas hot water system?
A: An improperly installed gas hot water heater can be both inefficient and incredibly dangerous. It is a legal requirement that only a qualified person can install a gas hot water heater. This will ensure quality performance and help protect you against any liability claims if you're a landlord.
Q: How long can I expect a gas hot water system to last
A: With regular services, a well-looked-after gas hot water system can last anywhere between 10–15 years. Warranties for gas hot water heaters tend to last between 5–7 years.
Q: How much does a gas hot water heater cost?
A: According to the Australian Bureau of Statistics, the average cost of a gas water heater in Brisbane is approximately $1700. Annual running costs for a gas water heating system is $380.
Q: What are gas hot water systems in Brisbane powered by?
A: Gas hot water systems (or any gas appliances) in Brisbane, the Gold Coast, and the surrounding area are typically powered by either natural gas or LPG (liquid petroleum gas).
Same Day Hot Water Service is the Only Business to Remember for Your Hot Water Needs!
The expert team at Same Day Hot Water Service is here to provide our customers with the best prices on Australia's favourite hot water brands and models, including Stiebel Eltron, Rheem, Dux, Rinnai, Aquamax and more. We pride ourselves on our reputation for excellent support, customer service and providing the best expert advice. Whether you need information on pricing, repairs, servicing or would like a quote, our experts are here to help.