Like most savvy hot water system shoppers, you've probably thought about what size system will give the best results for reliable hot water and budget-friendly energy bills. It's important to get the right size hot water system for your needs so that you never run out of hot water or need to freeze while you wait for it to heat up.
Buying a larger system than what you need can result in higher than necessary electricity bills yet buying one too small can mean your family is constantly running out of hot water.
A simple way to determine what size of hot water system is right for your home is to measure capacity versus consumption.
The result should be a system that covers your needs easily without exceeding them.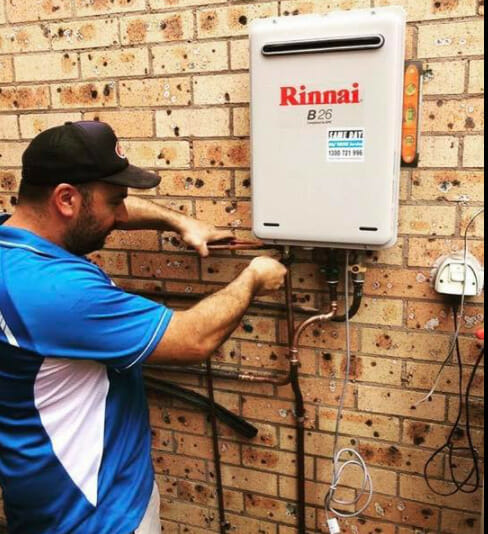 7 Steps to Measure your Hot Water Consumption
How many occupants are in the home? The hot water needs of a large family will far exceed those of a single occupant. However, a hot water system can last over a decade, so it's essential to consider your future in the purchase. For example, if you plan to rent out a room, add to your family, or become a landlord, a more extensive hot water system may be best. On the other hand, if your children are about to fly the coop and you're planning to live as empty nesters, your new system could potentially be smaller than your previous installation.

 
How many bathrooms do you have? Most modern homes have at least two bathrooms, a kitchen and built-in laundry, including many water-based appliances and fixtures. However, if your home has extra features beyond these, such as an ensuite, water closet or plumbed butler's pantry, your hot water system will need to cater for them.

 
How many people will use the outlets at once? Like most busy families, you may have multiple people needing water at once. Your hot water system will likely need to be able to keep up with someone doing the dishes while another is running a bath and someone else is upstairs having a shower. The more people using hot water at once, the bigger your system will need to be to ensure no one is left standing in the cold.

 
When do you use hot water the most? Most households use hot water the most in the evening, with people rushing for showers, the dishwasher running and the washing machine doing a quick load. You'll be grateful that you chose the more extensive system during these times. However, if you have a household of morning shower goers, you do your washing sporadically and set the dishwasher timer to run in the wee hours, you will be able to get away with a much smaller system.

 
What type of shower heads do you use? They may seem like a second thought, but shower heads can significantly affect your hot water consumption. This includes the pressure and the head's size, which can significantly influence the demand for your hot water system. Showers are the biggest consumers of hot water in a typical household, with an 8-minute shower having an average flow rate of 56 litres from start to finish.

 
Will you be shopping for a gas or an electric system? The type of power source you choose for your system will impact the required size of the tank. For example, gas hot water systems can heat their water quicker, meaning they can replace the hot water as soon as it's taken from the tank. On the other hand, electric hot water systems may require a greater reserve of pre-heated water to support the home when demand is high.

 
Do you use peak or off-peak power? When using an electric hot water system, you can often reduce your costs by running your hot water under an off-peak tariff (usually between 10 pm – and 7 am). This can be achieved by setting timers on appliances and encouraging showers right before bed or first thing in the morning. However, if you plan to use off-peak tariffs to their maximum potential, it may be worth purchasing a larger system as the water will still be stored to be reheated at night.

 
Hot Water Size Guide
Once you've got a good idea of your consumption, it's time to find a suitable capacity to match.
Compare these system types with your family size to get an insight into the hot water system installation you will need for your home.
Electric Hot Water Systems – off-peak tariff
| | |
| --- | --- |
| Household Size | System Size |
| 1 – 3 people  | 250 litres |
| 3 – 5 people  | 315 litres  |
| 8 people | 400 litres |
Electric Hot Water Systems – peak tariff
| | |
| --- | --- |
| Household Size | System Size |
| 1 – 2 people  | 50 litres |
| 2 – 3 people  | 80 litres  |
| 3 – 5 people | 125 litres |
Gas Hot Water Systems – natural gas or LPG 
| | |
| --- | --- |
| Household Size | System Size |
| 1 – 3 people  | 90 litres |
| 2 – 4 people  | 130 litres  |
| 3 – 5 people | 170 litres |
Gas Hot Water Systems – instantaneous flow 
| | |
| --- | --- |
| Outlets | System Size |
| 2 people  | 20 litres |
| 3 people  | 26 litres  |
| Over 3 people | 32 litres |
Solar Hot Water Systems
| | |
| --- | --- |
| Household Size | System Size |
| 1 – 2 people  | 180 litres |
| 3 – 4 people  | 300 litres  |
| 5 – 6 people | 440 litres |
Heat Pump Hot Water Systems
| | |
| --- | --- |
| House Size | System Size |
| Small house/Apartment  | 200 litres or less |
| Average 3-bedroom house  | 200 – 300 litres |
| Large 4+ bedroom house | 270L-400 |
Still unsure? We can help…
We understand that even with all the information at your disposal it can still be difficult to have confidence in your decision. As Australia's biggest online retailer for hot water systems, we will have a brand, size, and type to suit every household, budget, and family. We can help you to find the best solution within our range, and have it delivered or installed on the same day, so you don't have to be without hot water for a moment too long. 
Contact our knowledgeable hot water technicians today to discuss your hot water needs or call our emergency line on 1300 721 996 if you need hot water quick smart.