Hot water systems are the workhorse of the home, often doing their job reliably in the background with homeowners not giving them a second thought. That is, until something goes wrong and the water starts to run cold. 
If you're familiar with the heart-sinking feeling of wasting cold water as you wait for the heat to kick in, you know how important a reliable hot water system can be.
If you're building a property from scratch, if your old hot water system is on the fritz or you're simply looking for a more efficient option, you've come to the right place.
However, with many different variables and options, it can be difficult to choose the best gas hot water system for your home. The best system for your family may not be the same as your neighbour or your friend a suburb over with the freshly built house. Growing families with varying hot water habits, budgets and environments have resulted in a vast range of hot water systems filling the market offering an abundance of choice. 
What type of gas system do you need?
When it comes to gas hot water, there are three main options to choose from – gas continuous flow, gas instantaneous and gas storage. Each have different abilities, price points, perks, and functions. 
Gas continuous flow provides a constant flow of hot water right when you need it. Continuous-flow systems can provide reliable hot water for your home without running out after multiple showers. They take up very little storage space, making them perfect for large families who need to use every inch of their home purposefully.

 
Gas instantaneous systems do exactly what you think – provide hot water right when you need it. Heating the water as it passes through the heat exchanger, an instantaneous system will provide you with an endless supply of hot water, resulting in less wasted water and more reliable output.

 
Gas storage systems are what most people think of when they hear 'gas hot water system'. A large storage tank usually located in the garage or backyard; gas storage systems heat the stored water via a gas burner beneath the tank. This method is affordable to install and has the chance to dramatically lower your electricity bill while providing reliable and efficient hot water.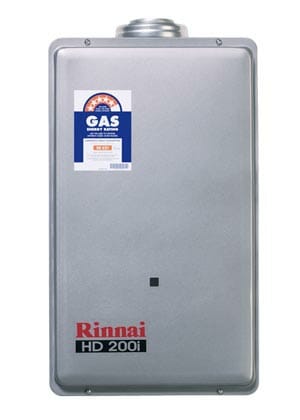 5 Major Hot Water Brands to Know:
Rheem
One of the leading hot water system brands, Rheem offer a range of options in each type of system, most with a 5-star efficiency rating. Rheem claims their Stellar range can replace hot water faster than any other gas heater, which offers a priceless benefit if you've got a big family or host a lot of guests.
Rheem has created their machines to produce a lot of hot water within the first hour of use with quick recovery so you can use lots of hot water across many hours without delay. Poor pressure during multiple showers is a thing of the past with Rheem's Stellar range offering mains pressure delivery. More so, Rheem offers 12-year cylinder warranties, and their products are completely Australian made. 
Aquamax
Aquamax is another leading brand that boasts high efficiency and an ability to work with mains power, granting you a powerful and reliable stream of hot water. Whether you've got a whole football team needing shower after shower, or your family has a penchant for turning on multiple taps at a time, Aquamax systems can keep up. The Aquamax 130 litre and 155 litre systems can deliver a high level of output within the first hour, and quick recovery to keep you in hot water all day long. Their fully stainless-steel tanks can store your water at a higher temperature, and they come complete with a 12-year warranty. 
Dux

 
The Dux Prodigy range has been improved with larger and more efficient burner technology to have better recovery rates and more reliable hot water output than ever. With an identical size to its previous models, upgrading is made simple. Dux Prodigy systems feature dual anodes to increase tank life and they can connect to mains water pressure to provide powerful and consistent hot water. Available to suit both natural gas and propane gas, the Dux Prodigy range comes with a 7-year warranty and is available in both a 135 litre and 170-litre capacity. 
Vulcan
Vulcan hot water systems have been in the Australian market for decades, offering a wide range of quality systems at affordable prices. Using the latest technology and steel tanks with ceramic linings, Vulcan systems are built for Australian conditions to resist corrosion and extreme climate conditions. Our Vulcan 135 litre and 170-litre options come with a warranty for 5 years on the cylinder, 3 years of warranty on the labour and parts, plus a year's warranty for other components. 
Rinnai
Designed to provide a quick and simple replacement for your old or malfunctioning gas storage system, the Rinnai Hotflo range offers a mains pressure connection to support the use of multiple taps at once and optimises gas consumption to reduce energy usage overall. We offer a 135-litre option along with a 170-litre option, both with 8 years of warranty on the cylinder and 1 year of warranty on the labour and parts. 
So many choices! How will you decide?
When it comes to gas hot water systems, Same Day Hot Water offers installation of all five of these brands.
We have built our range considering price, capacity, running costs and reviews so you can have the best solution for your hot water needs. In this blog, we have detailed some of the best options for gas hot water systems in each major brand so your choice is made simpler, and you can make your purchase with all the information.
As Australia's largest online hot water system retailer, we are proud to be the number one source for gas hot water systems Australia wide. We've provided the best, most efficient, affordable, and reliable hot water systems for over 30 years, and we've seen a range of brands come and go. With our selection of brands and products, we're confident that you'll find the perfect solution for your hot water needs. 
Contact us today if you'd like a quote for your new hot water system, if you're having issues with your current system, or would simply like to find out more about our range. We are just a phone call away.